CVS Tutorial for Newbies
Playing the CVS Extra Care Bucks Game can save you literally hundreds of dollars with very little effort other than researching the weekly deals.
Apply for an Extra Care Bucks rewards card. You can apply in-store or online. When you register your card online, you will automatically receive a $4 off $20 purchase Extra Care Buck.
Plan your scenarios. This can be done by picking up your weekly circular and reviewing the deals.  You will find sneak peeks of upcoming ECB deals with scenarios and detailed weekly scenarios right here at ClipperGirl's Saving Spot.  You can; also, find ad scans of upcoming CVS ads at We Use Coupons. You do need to be careful of the ad scans because there can be small difference according to region.  The very best deals for CVS newbies are those that are free after ECB.
Your goal is to spend as little of your own money out of pocket as possible.  The best way to do this is to use manufacturer's coupons, CVS store coupons and CVS $$ off $$$ coupons.  CVS allows one manufacturer's coupon and one CVS store coupon per item in conjunction with a CVS $$ of $$$ coupons.
A good example of how to obtain little out of pocket was the Gillette Body Wash promotion from June.  The body wash was FREE after ECB and there was a Buy One Get One coupon available.  For $4 OOP you recieved (2) body washes and a $4 ECB to use on a future purchase.
When reviewing the deals and scenarios on ClipperGirl's Saving Spot, you will note that items that are FREE have the final price highlighted in red and items that are stock up price have the final price highlighted in green.
Roll those Extra Care Bucks. Once you have the hang of CVS shopping, you will want to learn the "art" of rolling your "bucks".  This is basically using Extra Care Bucks from a previous transaction to pay for deals that produce rewards in the next transaction.  Learning to roll your ECBs is the best way to save money.
Occasionally rolling ECBs may mean "purchasing" items that you do not want or need.  Donate these items to local shelters, use them as stocking stuffers, create gift baskets for giveaways for local charities or sell them at yard sales.
Prepare to shop. When planning your trip to CVS you may want to take advantage of this great CVS Transaction Planner that Briana from Bargain Briana shares.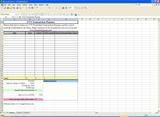 Now gather your CVS transaction planner, coupons  and calculator. The first thing you will want to do is gather up the items that you have incorporated into your scenarios.  It's not unusual for items from the best deals to be out of stock so you will want to make a back up scenario.  You will want to do multiple transactions in order to lessen your OOP.  Check ahead of time to see if your store will allow multiple consecutive shops.  If so, separate your "shops"  in different areas of your cart. Use ECBs from one transaction to pay for second transaction and so on.   If you store does not allow multiple consecutive shops, be prepared to take one "shop" out to our car and go back in to do consecutive shops.
Present your coupons in the correct order. In order to maximize your savings, you'll need to present your coupons in a particular order.  First, hand your ECB card to the cashier.  Then hand her any CVS $$ off $$$ coupons that you have.  After that, hand your CVS store coupons, Manufacturer's coupons and then any ECB's needed to complete payment.
One important thing to remember is that CVS will not give change if the total after coupons is less than ECB's.    Your goal; of course, is to have your total after coupons as close to the amount of the ECB as possible.  Occasionally you may have to pad your transaction with a filler.  This is an inexpensive item that you will purchase so that you don't lose ECBs.  I often pick up a pack of gum, travel size package of tissues, trial size item or something from the $1 section like a notepad.
Before leaving-check your receipt. You will want to make sure that all of your ECBs have printed.  It is easier to correct problems in the store; however, CVS Customer Service is always very helpful.
I love this YouTube video from CVS about the Extra Care Bucks program.  It really says it all.

I hope that this tutorial helps you to have a basic understanding of the CVS ECB game. Start slow, try not  be overwhelmed and remember that even seasoned CVSers make mistakes.

Print Friendly
https://www.avantlink.com/affiliate_app_confirm.php?mode=generate-js&application_id=248853